YES, THE RUMORS YOU'VE HEARD AND THE INTERVIEW YOU SAW ON T.V. ARE TRUE! AS OF OCTOBER 30, 2004 THE RESTAURANT AND FISHOUT ARE CLOSED. PERIOD. THE CAMPGROUND WILL REMAIN OPEN.
THE REACTION WE'VE RECEIVED BY THAT DECISION HAS BEEN — "OH NO, YOU CAN'T DO THAT!" — "CAN'T YOU STAY OPEN JUST A LITTLE LONGER?" AND "BUT WHY WOULD YOU DO THAT?"
THE LAST QUESTION IS THE EASIEST TO ANSWER. AFTER 36 YEARS OF LONG, HARD HOURS (YES, WE'VE BEEN OPEN 34 YEARS, BUT WE WORKED 2 YEARS GETTING READY TO OPEN) WE'VE DECIDED UNANIMOUSLY THAT IT'S TIME TO SLOW DOWN AND ENJOY A LITTLE BIT MORE OF LIFE AND A LITTLE BIT LESS OF WORK.
WE KNEW OF COURSE THAT THE LORD HAD BLESSED US, BUT WE HAD NO IDEA HOW MANY OTHERS HE HAD BLESSED UNTIL WE MADE THE DECISION TO CLOSE. WE APPRECIATE YOUR EXPRESSIONS OF BOTH GRATITUDE AND SADNESS. WE THANK YOU FOR SHARING OUR DREAM WITH US.
THROUGH "THE CRICKET" THE LORD HAS BLESSED US ABUNDANTLY ABOVE AND BEYOND OUR HOPES AND DREAMS. MANY GUESTS AND EMPLOYEES HAVE BECOME VALUED AND CHERISHED FRIENDS — WE HAVE HAD WORK TO DO (WHICH IS A BLESSING AS WELL AS BEING VERY TIRING SOMETIMES) — HE HAS ALLOWED US TO BE THE CARETAKERS OF A BEAUTIFUL PART OF HIS CREATION — AND HE HAS SEEN US THROUGH THE HARD TIMES AND REJOICED WITH US DURING THE REST.
AS WE MENTIONED, WE ARE NOT SHUTTING DOWN ENTIRELY. THE CAMPGROUND WILL CONTINUE TO BE OPEN AND WE WILL CONTINUE TO RAISE RAINBOW TROUT TO WHOLESALE TO OTHER FISH FARMS. THIS SHOULD KEEP US COMFORTABLY BUSY AND STILL LEAVE TIME FOR OTHER THINGS.
THE CHRISTMAS TREE PLANTATION WILL BE OPEN THIS YEAR. THE HAYRIDE TO THE PLANTATION WILL BE OPERATING THE FIRST 2 WEEKENDS IN DECEMBER DEFINITELY AND THE 3RD WEEKEND DEPENDING ON THE WEATHER AND HOW MANY TREES WE HAVE LEFT. WE HAVE WHITE PINE AND SCOTCH PINE TREES. YOUR CHOICE OF THE FIELD IS $32.00. THAT INCLUDES THE HAYRIDE AND HOT CHOCOLATE AND WASSAIL AROUND THE FIREPLACE FOR A FAMILY OF UP TO 4. OUR HAYRIDE WILL NOT BE RUNNING ON THANKSGIVING WEEKEND, BUT IF YOUR FAMILY TRADITION IS TO GET YOUR TREE THEN, GIVE US A CALL. WE WILL GIVE YOU DIRECTIONS TO HOW TO REACH THE PLANTATION AND WHERE TO OBTAIN SAWS AND DEPOSIT YOUR PAYMENT.
ALTHOUGH THE RESTAURANT AND FISHING ARE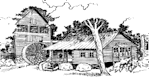 CLOSED, "THE CRICKET" IS STILL VERY MUCH HERE. WE WILL CONTINUE TO KEEP THE BUILDINGS AND GROUNDS IN GOOD CONDITION AND INVITE YOU TO FEEL FREE TO COME OUT AND WALK AROUND THE LAKES, FEED THE DUCKS, SIT ON THE PORCH SWING, OR JUST ENJOY A MOMENT OF PEACE AND QUIET ON ONE OF OUR LAKESIDE BENCHES.
REMEMBER, CONTINUE TO MAKE THOSE WONDERFUL MEMORIES. THEY ARE PRICELESS! MAY YOUR LIFE BE FULL OF JOY AND WONDER IN THE KNOWLEDGE OF THE LORD, AND MAY HE BLESS YOU.
"I AM COME THAT THEY MIGHT HAVE LIFE, AND HAVE IT MORE ABUNDANTLY." JOHN 10:10b