GOOD NEWS — BAD NEWS! THE BAD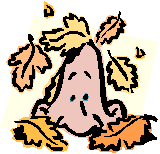 NEWS IS THAT THE RESTAURANT AND FISHOUT WILL ONLY BE OPEN UNTIL SATURDAY, NOV. 1, 2003. THE GOOD NEWS IS THAT WE ARE STILL OPEN UNTIL SATURDAY, NOV. 1 AND THAT GIVES YOU SEVERAL MORE WEEKS TO COME OUT WITH YOUR FAMILY AND FRIENDS TO MAKE MORE MEMORIES.
WHAT BETTER PLACE TO ENJOY FALL THAN AT "THE CROSSEYED CRICKET". IMAGINE YOU'RE SITTING ON THE SWING AT THE CABIN PORCH OR GENTLY ROCKING IN THE OLD WOODEN ROCKING CHAIR AT THE MILL. YOU CAN ALMOST FEEL THAT COOL BREEZE FLOATING BY. TAKE A DEEP BREATH AND YOU CAN SMELL THE WOODSMOKE GENTLY DRIFTING ACROSS THE LAKE FROM THE CAMPGROUND. THE LAKE IS STILL, WITH ONLY AN OCCASIONAL DUCK FLOATING BY TO DISTURB THE CALM. A RIOT OF COLORS MEETS THE EYE IN ALL DIRECTIONS — PURPLE, GOLD, RED AND GREEN LEAVES PUTTING ON THEIR FALL PARADE MIXED WITH THE COLORFUL FLOWERS THAT TUMBLE DOWN THE PATH BESIDE THE WATERFALL.
IF YOUR IMAGINARY TRIP HAS BROUGHT YOU HERE IN OCTOBER, OUR FALL FESTIVAL IS IN FULL SWING. THAT MEANS YOU MIGHT GET A CHUCKLE OUT OF ALL THE SCARECROWS, STRAW MULES, PUMPKINS AND OTHER DECORATIONS. ISN'T IMAGINATION WONDERFUL? IT'S EVEN BETTER WHEN YOU'RE HERE IN PERSON.! SO BE SURE TO MAKE A PLACE ON YOUR CALENDAR RIGHT NOW TO COME ENJOY FALL AT "THE CRICKET."

STARTING OCTOBER 1st THE SCHOOL BUSES WILL BE WINDING THEIR WAY UP PAW PAW PLAINS TO "THE CRICKET" AND A MORNING OF FUN. SHRIEKS OF LAUGHTER BEGIN FILLING THE AIR AS YOUNGSTERS TUMBLE OFF THE BUSES AND HEAD TO THEIR FIRST STATION.
SOME GO DIRECTLY TO THE HAY WAGONS TO START SLOWLY WINDING THEIR WAY UP THE HILL TO THE PUMPKIN PATCH. OTHERS TAKE A DIFFERENT ROUTE TO THE PATIO WHERE THEY ARE GIVEN A CHANCE TO

WITNESS IN PERSON THE ANTIQUE APPLE PRESS SQUEEZING JUICE IN THE OLD-FASHIONED WAY. FACE PAINTING IS HIGH ON THE LIST OF FAVORITE THINGS TO DO DURING THE FIELD TRIP. THOSE OF US WHO HELP OUT MAY NOT ALL BE ARTISTS, BUT WE HAVE MASTERED THE ART OF PAINTING PUMPKINS, APPLES AND SUNFLOWERS ON SMALL SHINING FACES. THERE ARE GAMES TO BE PLAYED, DUCKS TO BE FED, BOOKS TO BE READ AND ABOVE ALL THAT ONE PERFECT PUMPKIN THAT HAS JUST BEEN WAITING FOR THE SPECIAL CHILD THAT WILL CHOOSE IT.

SCHOOL FIELD TRIPS FILL OUR WEEKDAYS , BUT ON THE WEEKENDS OUR HAYRIDE AND PUMPKIN PATCH ARE OPEN TO THE PUBLIC. FRIDAYS FROM 4:00P.M. UNTIL DARK AND SATURDAYS FROM 10:00 A.M. UNTIL DARK THE HAYWAGONS ARE BUSY LUMBERING UP THE HILL PAST MALLARD MIRE, ALONGSIDE RABBIT RUN, AND PERILOUSLY CLOSE TO HAPPY HOLLOW TO THE PUMPKIN PATCH. FAMILIES, FRIENDS, BIRTHDAY PARTIES, CHURCH AND NEIGHBORHOOD GROUPS ASSEMBLE TO LET THE KIDS AND THE KID IN THEMSELVES HAVE A BALL.
WHETHER YOUR PUMPKIN IS TALL AND SKINNY OR SHORT AND ROUND, YOUR PERFECT PUMPKIN IS WAITING FOR YOU TO COME AND CLAIM IT. OF COURSE THERE ARE LOTS OF OTHER THINGS TO DO WHEN YOU COME OUT FOR THE DAY. THERE ARE PADDLEBOATS AND CANOES TO LAZE AROUND THE LAKE IN, HORSESHOES AND CHECKERS TO BE PLAYED AND FISH TO BE CAUGHT . AT THE END OF A PERFECT DAY, YOU CAN THEN TAKE THAT SHORT WALK BESIDE THE LAKES DOWN TO THE CABIN AND MILL AND ENJOY A FANTASTIC DINNER. WHAT BETTER WAY TO CELEBRATE FALL!
WHAT IN THE WORLD IS A KNAP-IN?
WHY WOULD ANYONE HOLD A 4TH ANNUAL KNAP-IN?
SOME PEOPLE MIGHT SAY IT'S A GROUP OF

OVERGROWN KIDS HAVING FUN WITH WHAT STARTED OUT AS A HOBBY. ACTUALLY, KNAPPPING IS THE ART OF MAKING ARROWHEADS. ON OCT. 17TH, 18TH, AND 19TH YOU'RE INVITED TO COME SEE FOR YOURSELVES. YOU'LL BE DELIGHTED WITH THE BEAUTY OF THE ARROWHEADS, INDIAN JEWELRY, BONE AND STONE KNIVES, ETC. KNAPPERS FROM ALL OVER THE SOUTH WILL BE DEMONSTRATING AND TEACHING THE ART OF KNAPPING AS WELL AS SEVERAL OTHER NATIVE AMERICAN CRAFTS. THERE IS NO ADMISSION CHARGE AND YOU'RE FREE TO WANDER FROM ONE ARTIST TO ANOTHER.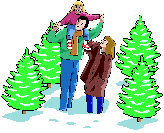 HERE'S ANOTHER SPECIAL MEMORY MAKING OPPORTUNITY YOU WON'T WANT TO MISS. CLIMB ABOARD THE HAYWAGON AND LET US DO THE DRIVING. YOUR TRIP TO THE TREE PLANTATION WILL TAKE YOU PAST OUR PROGRESSIVE NATIVITY, THROUGH HAPPY HOLLOW AND SET YOU DOWN SMACK DAB IN THE MIDDLE OF SOME OF THE MOST BEAUTIFUL CHRISTMAS TREES AVAILABLE. YOUR PERFECT TREE IS SITTING THERE JUST WAITING FOR YOU TO FIND IT. WE'LL FURNISH THE SAW TO CUT IT WITH AND HELP YOU LOAD IT ON THE WAGON .
WHEN YOU ARRIVE BACK AT THE OFFICE WITH YOUR TREE, WE'LL HAVE THE FIRE WAITING FOR YOU TO WARM YOUR EXTERIOR AND A CUP OF HOT CHOCOLATE OR WASSIL WAITING TO WARM YOUR INTERIOR. WE ENJOY THE SEASON EVEN MORE BECAUSE WE GET TO SHARE IT WITH YOU, OUR FRIENDS. IT'S A JOYOUS OCCASION FOR US, AS WE CELEBRATE THE BIRTH OF JESUS. WE LOOK FORWARD TO HAVING YOU CELEBRATE WITH US. WE HAVE LOTS OF MEMORIES JUST WAITING TO BE MADE BY YOU AND YOUR FAMILY. WHO COULD ASK FOR A BETTER OR MORE LASTING CHRISTMAS PRESENT.
THE PLANTATION WILL, AS USUAL, BE OPEN THE WEEKEND AFTER THANKSGIVING INCLUDING FRIDAY. OUR SCHEDULE FOR THE REST OF THE CHRISTMAS SEASON WILL BE SAT. FROM 10 A.M. TILL DARK AND SUN. FROM 1 P.M. TILL DARK. THIS YEAR WE HAVE A LARGE NUMBER OF SCOTCH PINE READY FOR YOU TO CHOOSE FROM AS WELL AS OUR TRADITIONAL WHITE PINE.

IT'S HARD TO BELIEVE THAT "THE CRICKET" HAS BEEN OPEN FOR 33 YEARS! THERE'S NOTHING THAT CAN MAKE YOU FEEL OLD QUITE AS QUICKLY AS HAVING A YOUNG COUPLE TELL YOU THAT THEY CAUGHT THEIR FIRST FISH OUT HERE WHEN THEY WERE ONLY 5 AND NOW THEY ARE BRINGING THEIR CHILDREN OUT TO CATCH THEIR FIRST FISH. THE BEST PART IS WHEN THEY TELL YOU THEY ARE SO GLAD NOTHING HAS CHANGED AND IT'S JUST AS THEY REMEMBER IT. ANOTHER MEMORY PRESERVED!
FALL HAS SUCH A FABULOUS PALATTE OF COLORS THAT WE DECIDE EVERY YEAR IT JUST HAS TO BE THE BEST SEASON. THE DEEP PURPLE OF THE NEW YORK IRON WEED, THE BRIGHT RED OF THE CARDINAL FLOWER, THE DEEP GOLD AND RUST COLORS OF THE MUMS ALL COMPLIMENT THE HUES OF THE CHANGING LEAVES. THEN ALONG COMES WINTER TO TRY TO CHANGE OUR MINDS. THESE SAME VIBRANT COLORS ARE REPEATED IN THE CARDINAL, PURPLE FINCH AND GOLDFINCH. OFTEN STANDING OUT AGAINST A BEAUTIFUL SNOWY BACKGROUND THEY SEEM TO BE SAYING, SEASON, WE HOPE THAT WE MAKE THIS SEASON BEAUTIFUL TOO. WHATEVER THE SEASON, WE HOPE THAT EACH OF YOU WILL FIND JOY IN IT. REMEMBER TO FEED THE BIRDS AND SQUIRRELS, HAVE FUN WITH YOUR FAMILY, MAKE SOME NEW FRIENDS, AND SHOW THE OLD ONES HOW MUCH YOU TREASURE THEM. MAY THE BLESSINGS OF GOD BE OVER AND AROUND YOU AND MAY YOU BASK IN THE KNOWLEDGE OF HIS LOVE.
WE STARTED OFF THIS NEWSLETTER WITH THE GOOD NEWS THAT WE WOULD BE OPEN THIS YEAR UNTIL NOV. 1ST; BUT THE REALLY GOOD NEWS IS THAT JESUES SAID HE CAME THAT WE COULD HAVE LIFE AND HAVE IT MORE ABUNDANTLY! (JOHN 10:10B ) WE HAVE FOUND THIS TO BE TRUE IN OUR LIVES. WE HOPE YOU HAVE FOUND THAT TRUTH FOR YOURSELF.
IF YOU ARE READING THIS WHILE YOU'RE AT "THE CRICKET" WE'RE HAPPY TO HAVE YOU HERE. ARE YOU ON OUR MAILING LIST? IF NOT, WE WOULD LIKE TO ADD YOUR NAME SO YOU CAN RECEIVE OUR NEXT NOTE. JUST ASK YOUR SERVER FOR A FORM TO FILL OUT AND WE WILL GLADLY INCLUDE YOU IN OUR NEXT MAIL-OUT.